Let's talk entrepreneurship this fall
Tweet
Some have said it's the buzzword of the decade, but entrepreneurship is a solution to unemployment and generating a heathy, thriving market.  There are even entire post-secondary programs specifically on entrepreneurship – I blogged about my experience at one here.
Entrepreneurship is increasing substantially, probably prompted by the economic crisis, high youth unemployment rates, and easy access to startup resources (a lot of time times, that means, access to the internet, and you're good to go!).
So for those who are considering starting their own venture, or those who are already active entrepreneurs curious for more, here are 2 events I'll be speaking at this fall.
The Jump to Entrepreneurship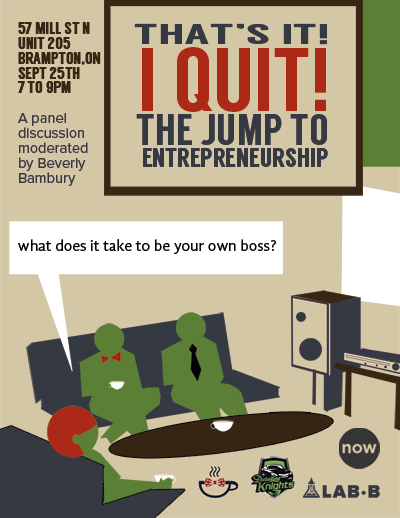 Thursday, 25 September
7:00 PM to 9:00 PM
LAB•B in Brampton
Register Free

About the Event
Making the leap into entrepreneurship is no easy task; but, with unemployment and underemployment as existing factors more and more people are finding themselves at a fork in the road. "Should I start my own business?" "Should I quit my job?" "Isn't there more to all of this?" Join us as we discuss this leap with successful Brampton entrepreneurs and find out what their stories are, why they chose to open businesses in Brampton, what their initial obstacles were, and what it really takes to be a successful business owner.
You can register free for this event right here.
The Creative Moment of Now
Thursday, 23 October
1:00 PM to 2:00 PM
HIGHLINE in Toronto
Register Free
About the Event
HIGHLINE Talks are about supercharging your weekday afternoons with a themed talk, entrepreneurial minds, and lots of free coffee. Get a dose of inspiration and return to work refreshed and ready to hustle.
I'll be sharing my entrepreneurial journey starting Now Creative Group, and will discuss the importance of a diverse team and having a passion for serving fellow entrepreneurs and great causes.
You can register free for this event right here.
Hope you can make it out!